Anti-inflammatory and antioxidant effects.
 Improves skin hydration, provides smoothing fine lines and wrinkles, increases skin elasticity.
Gluconolactone is an active ingredient with anti-inflammatory and antioxidant effects; that treats skin very gently without affecting deeper layers. The effect is very similar to that of AHA's (fruit acids like glycolic or lactic acid), but as a type of polyhydroxy acid gluconolactone is more beneficial.
As it contains five hydroxyl groups, it has more hydrating properties compared to alpha hydroxy acid with only one hydroxyl group. Since it is a larger molecule (having a three-dimensional molecule 178 Da), gluconolactone penetrates the skin slowly without burning it like the other chemical peels with alternative active ingredients do. That's why non-irritating gluconolactone is perfect even for dry and hypersensitive skin peel.
Properties:
Anti-inflammatory and antioxidant effects, boost of skin's immune system. Gluconolactone is a natural antioxidant which is as effective as vitamin C and vitamin E.
Gluconolactone blocks the synthesis of pro-interleukin-1, which can cause increased inflammation. The interaction of gluconolactone with skin begins once it was applied, affecting the acid mantle, restoring the proper pH.
Recovery of skin barrier integrity is dependent on serine protease activity, which means that reduction of serine protease activity caused by lower pH level in the acid mantle can help to maintain cell junctions. Also activates lipid synthesis in keratinocytes providing moisture into horny layer of skin. Gluconolactone has the ability to transfer water molecules playing a central role in skin moisturizing.
As a chelating agent, gluconolactone has the ability to bind and remove free radicals from the body. The oxidation process, caused by overabundance of iron and UV-rays influence, occurs in skin pigmentation that is a typical sign of photo ageing. Gluconolactone helps to bind free iron ions preventing the oxidation process and consequences of UV-radiation.
Gluconolactone initiates processes that precede the production of hyaluronic acid in keratinocytes and fibroblasts, as well as synthesis in matrix metalloproteinase and collagen.
Advantages:
Dead skin cells are removed gently, causing no skin irritation. Gluconolactone is used for inflammatory skin diseases accompanied by hyperkeratosis: psoriasis, acne, dermatitis, anti-aging as a means of prevention and correction of age changes of skin, especially sensitive. Due to the absence of irritating action do not require neutralization may be conducted often enough to achieve a noticeable effect.
Improves skin hydration, provides smoothing fine lines and wrinkles, increases skin elasticity, evens its tone due to the keratolytic action removes the roughness and tightens pores. Gluconolactone does not cause irritation or sensitization of the skin and mucous membranes.
Capable of being used at any time of the year.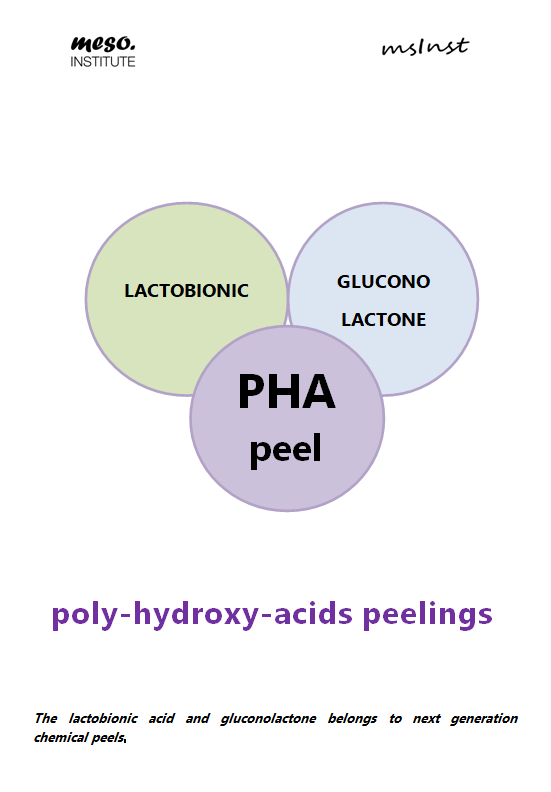 Can help to:
epidermal dehydration
acne (comedones, blackheads, whiteheads, acne, post-acne)
epidermal hyper pigmentation (spots on the outer layer of skin)
hyperkeratosis
seborrhea
enlarged pores
loose, sagging skin
dull uneven skin tone
photo-aging ( caused by excessive UV-radiation)
Contraindications:
pregnancy and lactation
herpes
warts
secondary infection
small scratch marks on skin
skin hypersensitivity
oncological diseases
eczema
psoriasis
sunburned skin
Precautions:
For external use only. Do not apply to broken or peeling skin. Immediately rinse with water and discontinue use if excessive redness or irritation occurs. Keep out of reach of children.
Presentation & Reference:
Box  ………………….. 10 vials of 5 mL              Reference…………..160558
General information:
All products are dully registered as a chemical exfoliant. The manufacturer or distributors are not responsible in any case of any kind of damages caused by third parties or adverse effects.