Prepare the peeling area. Cleanses, remove oil, moisturizes, anti-bacterial.
This specific cleanser prepares the skin, uniforms pH and removes oil.  Prepares the skin for the exfoliating treatment. 
Thanks to it citric acid and lactic acid, it effectively cleanses the skin from the superficial keratinized layers of the epidermis, unblocks the sebaceous glands and reduces the lipid barrier., at the same time that uniforms the pH of the skin. This allows an even penetration and increases the effectiveness of any type of exfoliating acid.
Apply  the cleanser with a wet gauze all over the face and neck to be treated. Repeat the application if necessary. After that pat dry with a towel and procede with the acid.
No parabens, silicone, animal derived ingredients or colouring.
This pre-peel cleanser/21 due to its formulation uniforms the pH of the skin at the same time that reduces the lipid barrier and cleanses the skin from keratinized layers.
– Uniforms the skin pH.
– No paraben, alcohol, animal origin ingredients and colouring.
– Non-animal tested.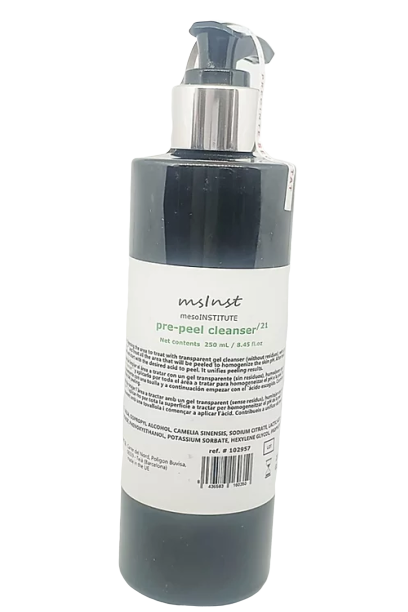 Benefits:
– Cleanses the skin.
– Uniforms pH.
– Remove oil.
– Moisturizes
– Anti-bacterial properties.
Active ingredients:

– pH regulators.
– Antioxidants.
– Antiseptic.
Area:
Face, decollete, hands and body.
Skin type:
All skin types.
User indications:
After cleansing the area to treat with a transparent gel cleanser (without residues), wet a gauze with the pre-peel cleanser/21 and treat all the area that will be peeled to homogenize the skin pH. After being wet, pat dry with a towel and the start with the desired acid peeling product. It unifies peeling results.
Presentation & Reference:
Bottle  250 mL.                                Reference 102957
General information:
All products are dully registered as a topical cosmetics. The manufacturer or distributor are not responsible in any case of any kind of damages caused by third parties or adverse effects.  
No parabens, preservatives, ingredients of animal origin or colouring. Microbiologically tested.