AHA Alpha hydroxy acid peelings
AHA peelings. Chemical peel Rejuvenation Wrinkles and lines
Chemical peel can help to the skin rejuvenation and to minimize  wrinkles and  lines. They involve applying a chemical solution to the skin to remove its outer layers. 
ADVANTAGES OF AHA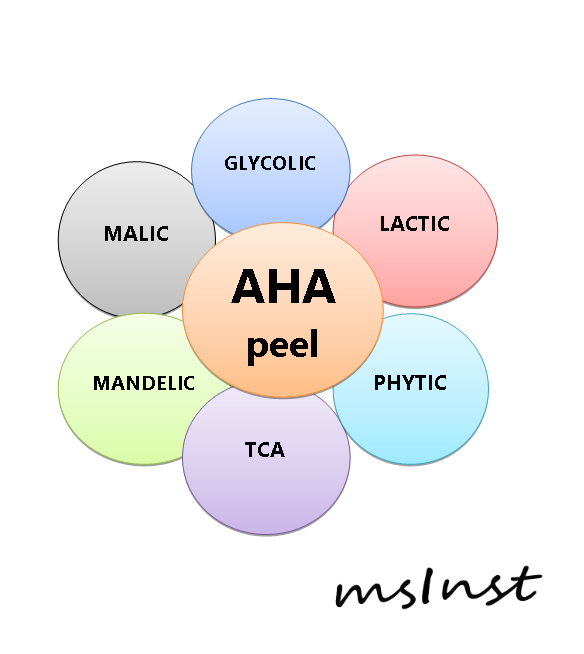 Alpha Hydroxy Acids  are a class of chemical compounds that occur naturally in fruits, milk, and sugar cane.
Although  they are called acids they are not to be confused with strong industrial acids.
This kind of acids are a group of natural acids found in foods: include citric acid (found in citrus fruits), glycolic acid (found in sugar cane), lactic acid (found in sour milk), malic acid (found in apples), tartaric acid (found in grapes), and others. They may be obtained from their natural sources or may be made synthetically.
AHA-containing products cause exfoliation, or shedding of the surface skin.
The extent of exfoliation depends on the type and concentration of the AHA, its pH, and other ingredients in the product.
Various Alpha Hydroxy Acids 
are applied to the skin for moisturizing and removing dead skin cells, for treating acne and improving the appearance of acne scars, for improving the appearance of photo-aged skin, and firming and smoothing skin.
The percentage of a peel just indicates how much of the peeling agent is contained in the peel. So a 15% glycolic acid peel has less glycolic acid than a 50% glycolic acid peel.
What really matters when it comes to peel is their pH level. This indicates how deep the peel will penetrate into the skin and how much irritation it will get.
.
The lower the pH, the deeper the peel (except in the enzymatic peeling)
Glycolic acid (from sugar cane) is the most common peeling agent. It can be used to treat fine lines and wrinkles, sun damage, improvement of skin texture, skin brightening. Do not use in summer.
AHA 20% glycolic peel/25 Exfoliator
AHA 35% glycolic peel/26 light peel
Lactic acid (from sour milk) is one of the acid used in modern AHA peels. It is less irritating than other AHAs. It can be used to treat pigmentation, dry or dehydrated skin, sensitive skin.  Do not use in summer.
Mandelic acid (from almonds) is a weaker AHA than glycolic acid. It can be used to treat fine lines and wrinkles, acne scaring and oil control. This chemical peels can be used in summer.
Malic acid is a substance found naturally in apples and pears. This peel is the same type of mildly invasive peel derived from the extracts of apples. It can open up the pores, allow the pores to expel their sebum and reduce acne. This chemical peels can be used in summer. 
TCA Trichloroacetic acid has been used as a peeling agent for a long time and is still the most effective and safest agent for medium peeling, specially when combined with Jessner solution. Do not use in summer. 
PHYTIC PEEL (Hollywood Style peeling) is an AHA that has efficacy at low pH and does not require neutralization. It has progressive and sequential therapeutic action, in a non-aggressive manner. It does not cause a burning sensation, does not need to be neutralized. It has been proven to be a great way to solve problems of mature skin with cuperose. This chemical peels can be used in summer. 
PR360/44 is a peeling cocktail gel capable of stimulating and reshaping the deep dermis. Its formulation allows to penetrate the skin gradually, layer by layer. Due to this fact, their use in peel treatments does not cause burning sensation nor irritation of skin.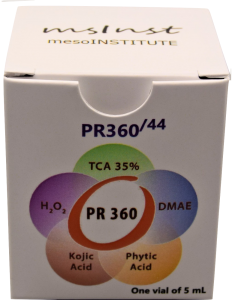 Precautions:
For external use only. Do not apply to broken or peeling skin. Immediately rinse with water and discontinue use if excessive redness or irritation occurs. Keep out of reach of children.
General information:
All products are dully registered as a chemical exfoliant. The manufacturer or distributors are not responsible in any case of any kind of damages caused by third parties or adverse effects.