Skin cleansers and restoratives are a basic complements collection essentials for:
Neutralize, restore pH, moisturize  the skin after the treatments.
With hyaluronic acid, caviar extract, anti-oxidants and peptides.
Prepare the skin. 
This pre-peel cleanser/21 due to its formulation uniforms the pH of the skin at the same time that reduces the lipid barrier and cleanses the skin from keratinized layers. Prepare the skin before the peeling and balance the pH to obtain a uniform result:  pre-peel cleanser/21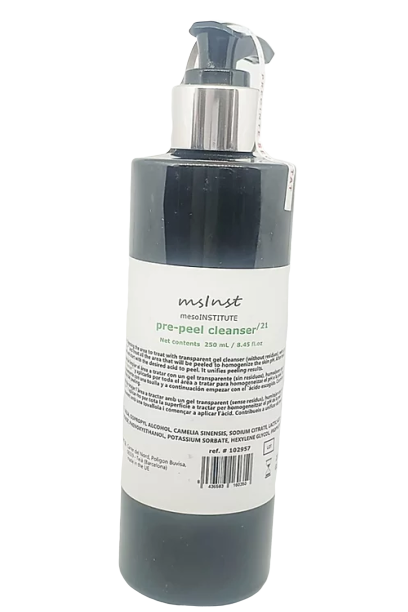 Neutralize peeling. Restore the skin pH.
The post-peel neutralizing solution/23  is far more effective than just rinsing off the peel with water.  It stops the peel from going too far into the skin. It calms inflamed skin and helps to return the skin to its normal pH Level. Tap water alone could not accomplish this as the pH of water is not high enough to equalize the chemical reaction of the acid. Neutralize the acidic remains after the peeling. Help to restore the skin pH: post-peel neutralizing solution/23
Moisturize.
The post-peel moisturizing hyaluronic serum/24 is the latest generation of moisturizing skin care, not acting only over the superficial epidermis, but at the level of the skin cells and the dermis to treat efficiently the skin dryness. It helps to preserve the essential water of the skin cells by stimulating the aquaporin-3 formation, restores the cellular junctions to avoid transepidermic water loss and stimulates the collagen I synthesis to improve the skin elasticity. Recover and moisturize the skin after peeling thanks to the hyaluronic acid present in its formulation: post-peel moisturizing hyaluronic serum/24
Regenerate and nourish  the skin.
Our Émulsion Nutripeel is enriched with anti-oxydants, low-molecular-weight hyaluronic acid and a blend of ingredients with the ability to increase cellular moisture as well as our caviar extract. This exclusive synergy provides the highest levels of skin moisture, and colagen stimulation and treats efficiently the skin dryness. Moisturize, smoothe, recover and soften the skin after the peeling: ÉMULSION NUTRIPEEL 
General information:
All products are dully registered as a topical cosmetics. The manufacturer or distributor are not responsible in any case of any kind of damages caused by third parties or adverse effects.  
No parabens, preservatives, ingredients of animal origin or colouring. Microbiologically tested.
Some products may contain fish derivate. May cause an allergic reaction.