Chemical peel: AHA, BHA, PHA
Chemical peel AHA BHA PHA and Intime gel peeling
PEELS. About pH and Buffering
First, keep in mind this sentence:
«In the aesthetics industry Research and Development timelines don't generally go well with marketing timelines and customer aspirations»
"How corrosive an acid or a base is does not relate to its strength or percentage in the solution."
 The concentration of acids in the solution and pH are not the only factors in determining the strength of a peel. A chemistry law that largely unspoken of in marketing brochures but which is inherent to all molecules determines the relative strength of all acids or bases is what known as the pKa value.
"The higher the pKa value, the weaker the acid. The lower the pKa value the stronger the acid"
pKa values are fixed and constant for every molecule, it never changes no matter what the concentration of the molecule in a solution, no matter what the pH of a solution is
The efficacy it depends not only on the structure and size of the molecules, their concentration, and the pKa of each molecule and the pH of the global formulation is also a question of balance and respect of chemistry rules.
Skin proteins are complex chains of amino acids and they are very sensitive to the level of pH surrounding them. When the skin's proteins react with an acid in low pH coagulation occurs. This is a non-reversible reaction where the proteins are basically destroyed.
If the pH is chemically altered to give a higher pH, the reaction is slower and the coagulation is less than it would be if the peel were un buffered, this allow you to keep this on your skin without feeling a constant irritation while still benefiting from the acid.
Buffering can either increase or decrease a pH level when mixing chemicals. Buffered and non buffered products can carry the same percentage of an active ingredient, but the strength of the ingredient will vary greatly.
Products and treatments exclusively designed for Spa, beauty institutes and medical aesthetic centers.
SAFE, EFFECTIVE and ADAPTABLE products.
No GMO (not genetically modified).
No BSE (no component of animal origin).
.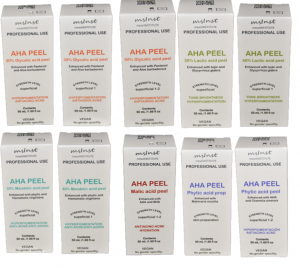 Alpha Hydroxy Acids  are a class of chemical compounds that occur naturally in fruits, milk, and sugar cane. Although  they are called acids they are not to be confused with strong industrial acids.
Salicylic acid is a Beta Hydroxy Acid (BHA), effective option for sensitive, acneic, oily and blemished skin types.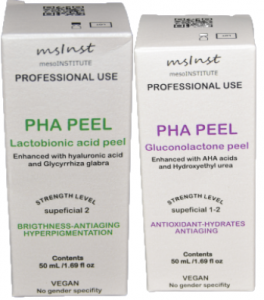 These peelings are mild and can be used even by people with acids allergy or hypersensitivity to any components, because indications for use of PHA peels are generally the same of AHA. (Retinoic acid or glycolic peel).
PR360/44 is a peeling cocktail gel capable to fight to antifree radicals, it is antioxidant, needle-free biorevitalization. It can stimulate and reshape the deep dermis.
Designed to treat hyperpigmentation on the private body parts of both men, women and transgender.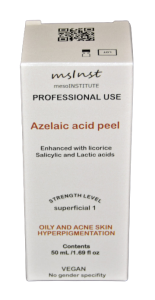 Azelaic acid is obtained from grains such as barley, wheat and rye. It is a multifunctional skincare ingredient that tackles a multitude of concerns related to breakouts and inflammation.
Precautions:
For external use only. Do not apply to broken or peeling skin. Immediately rinse with water and discontinue use if excessive redness or irritation occurs. Do not store once open. Keep out of reach of children. Open carefully. Avoid contact with the eyes.
General information:
All products are dully registered as a topical cosmetics. The manufacturer or distributor are not responsible in any case of any kind of damages caused by third parties or adverse effects.