Chemical peel: AHA, BHA, PHA
Chemical peel: AHA, BHA, PHA and our PR360  involves applying a chemical solution to the skin to remove its outer layers in order to improve the appearance of the skin.
How much skin they remove and how deep they penetrate will depend on the type of peel used, its strength and how long it is left on.
The lower the pH, the deeper the peel, (except in the enzymatic peeling). Anything with a pH of less than 2.0 should be done by a doctor or nurse. Peels with a pH of 3 are what usually find in a beauty salon.
mesoINSTITUTE has developed AHA, BHA, PHA peels and our exclusive PR360 peeling,   for professional use.
AHA are a group of natural acids found in foods. Alpha Hydroxy Acids include citric acid (found in citrus fruits), glycolic acid (found in sugar cane), lactic acid (found in sour milk), malic acid (found in apples), tartaric acid (found in grapes), and others
Salicylic acid is a Beta Hydroxy Acid (BHA), effective option for oily and blemished skin types. Highly effective as agent for the realization of a superficial peeling, removing aging cells, oil and debris attached to skin surface. It is one of the most effective substances to combat the excess  production oil, redness and blemishes as well as to rejuvenate the skin and as alternative to glycolic peeling.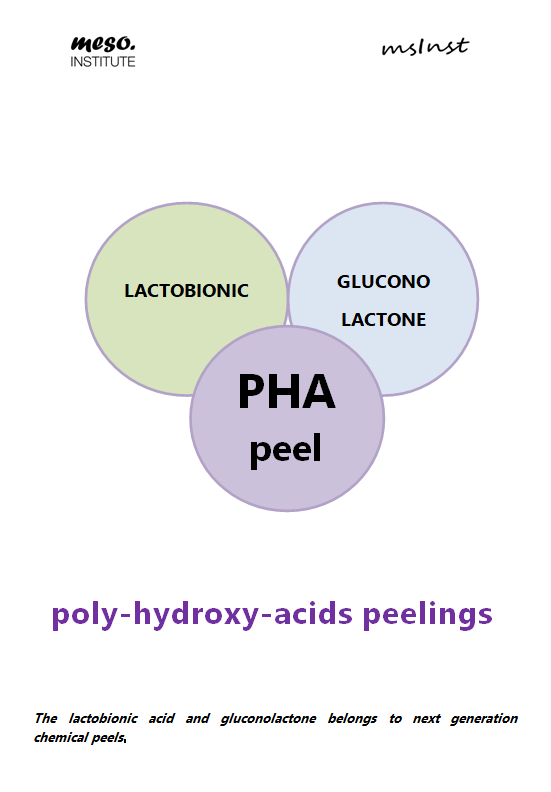 PHA peelings are mild and can be used even by people with acids allergy or hypersensitivity to any components, because indications for use of PHA peels are generally the same of AHA. (Retinoic acid or glycolic peel).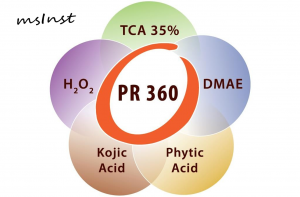 PR360/44 is a peeling cocktail gel capable of stimulating and reshaping the deep dermis. Its formulation allows to penetrate the skin gradually, layer by layer. Due to this fact, their use in peel treatments does not cause burning.