PHA (poly-hydroxy-acids peelings)
PHA peel photo aging, wrinkles, hyper pigmentation, dryness.
The lactobionic acid and gluconolactone belongs to next generation chemical peels
ADVANTAGES OF PHA
Polyhydroxylated acids have a greater molecular weight and structure; penetrate the skin gently and gradually. They provide additional moisture deeper in comparison with AHA acids, significantly increasing the protective function of the horny layer of the epidermis, therefore increasing the skin's resistance to chemical reactions.
These peelings are mild and can be used even by people with acids allergy or hypersensitivity to any components, because indications for use of PHA peels are generally the same of AHA. (Retinoic acid or glycolic peel).
Polyhydroxy acids have been proven to reduce the effects of photo aging: wrinkles, hyper pigmentation, dryness and peeling. They are involved in the formation of collagen and elastin fibers.
It is a very delicate skin treatment that can be used as often as you wish to achieve desired result.
In addition, the risk of post-peel symptoms such as redness and swelling is significantly reduced avoiding post-inflammatory pigmentation.
PHA don't require a basic neutralizer application after the treatment and can be washed off with water only.
Capable of being used at any time of the year.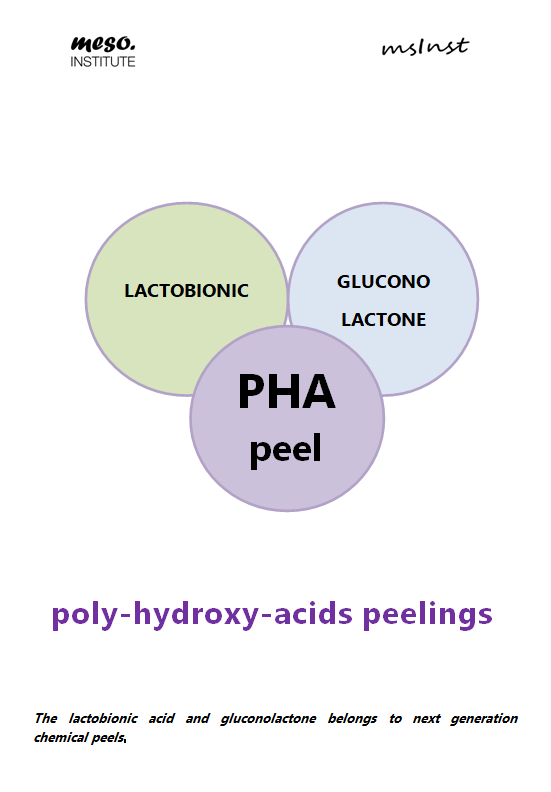 Gluconolactone is an active ingredient that treats skin very gently without affecting deeper layers.
The effect is very similar to that of AHA's (fruit acids like glycolic or lactic acid), but as a type of polyhydroxy acid gluconolactone is more beneficial.
As it contains five hydroxyl groups, it has more hydrating properties compared to alpha hydroxy acid with only one hydroxyl group.
Since it is a larger molecule (having a three-dimensional molecule 178 Da), gluconolactone penetrates the skin slowly without burning it like the other chemical peels with alternative active ingredients do. That's why non-irritating gluconolactone is perfect even for dry and hypersensitive skin peel.
LACTOBIONIC PEEL (called summer acid)
Derived from plant extracts, Lactobionic acid (4-O-β-galactopyranosyl-D-gluconic acid) belongs to polyhydroxy acids. Formed by oxidation of milk sugar (a disaccharide named lactose), it consists of gluconic acid and galactose bonded via an ether linkage.
Polyhydroxy acids penetrate the skin gradually, layer by layer. Due to this fact, their use in peel treatments does not cause strong burning sensation and irritation of skin.
Lactobionic acid is a mild exfoliant that smoothes and resurfaces without causing irritation or redness. Thanks to minimal irritative effect, it can be successfully performed even on sensitive skin that is prone to acne