Biomimicry by mesoINSTITUTE
Biomimicry by mesoINSTITUTE®
   "Nature always makes the best of possible things." Aristotle (Stagira, 384 b.C.-Calcis, 322 a.C)
 Biomimicry by mesoINSTITUTE®: mesotherapy solutions, peptides biomimetics. Anti-age, anti-ox activity.
Mesotherapy solutions,  peptides biomimetics
Biomimicry by mesoINSTITUTE®, the newest mesotherapy solutions with peptides biomimetics which uses different combinations of peptides, at a dosage that has a synergistic effect depending on what the product was designed to address.
The result : Healthy Youthful Luminous Skin, longer.
There are four types of peptides.
Signal peptides improve the skins volume, hydration and sagging skin limiting the appearance of aging skin.
Carrier peptides enhance the delivery of active ingredients into the specific layers of the skin.
Neurotransmitter peptides are best used to help reduce the appearance of expression lines, crow's-feet, forehead, between brows, and lip lines.
Enzyme peptides inhibit the appearance of discoloration and aging skin.
What is Biomimicry by mesoINSTITUTE® ?
Is the next concept on mesotherapy.
Based on different nature biomimics, active peptides obtained by biotechnology, present in the final solution add their power of action to other actives substances that had shown their activity in classical mesotherapy cocktails.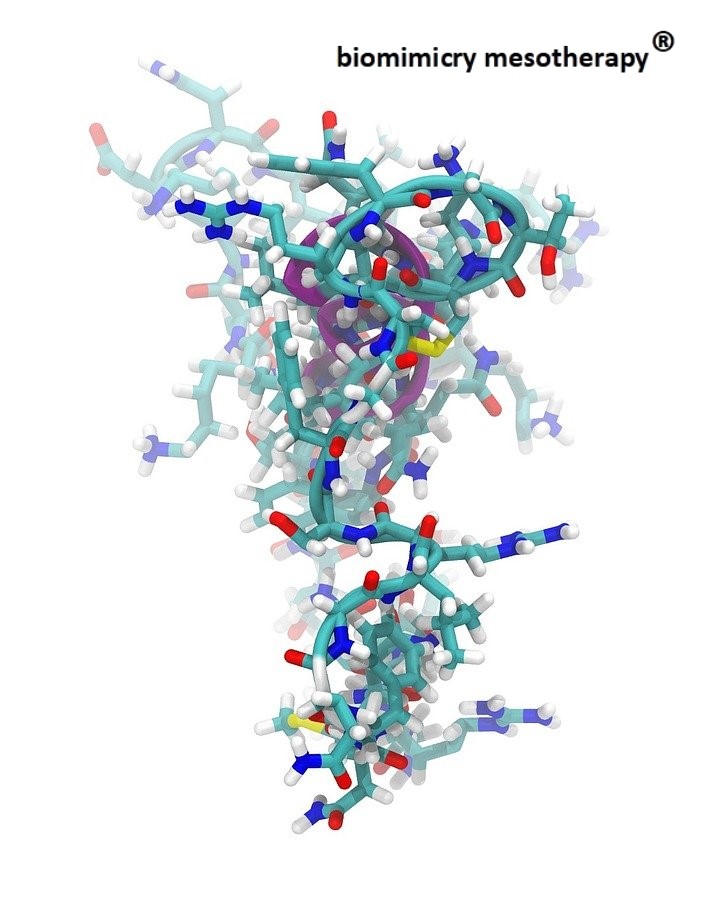 Regarding the peptides that will be used in Biomimicry by mesoINSTITUTE® (cytokines as well as growth factors), some characteristics are:
Short chains of amino-acids
Stimulates cell differentiation and proliferation
Strengthens skin elasticity by inducing the synthesis of collagen and elastin
Active rol in wound healing
No carcinogenic effects
Stimulates hair follicle proliferation
Prevents hair loss
Repairs and prevents wrinkle formation
Decrease progerin synthesis
Increase proteoglycan production and contract collagens
Regulates gene expression
Stimulates microcirculation
Minimize scar formation
Preserve the skin from oxidative stress
Active rol in removing cellulites
Direct lipolytic activity
Inhibition of melanin synthesis
Anti-inflammatory properties
Anti-oxidant activity
Mimics EGF
Mimics TG
 Biomimicry by mesoINSTITUTE® HAIR contains a mixture of peptides with specific activity on hair follicles, activating their stem cells, promoting hair growth and helping blood microcirculation, revitalizing the scalp area.
Also the presence of different amino-acids as well as mineral salts supports the appearance of healthy performance hair follicles, and the presence of vitamin B complex, that boost of energy to the cells, antioxidant substances, that counter damage  the free radicals in the scalp and the piscum ovum extract (caviar) with their peptides, amino-acids, lipids and vitamins, that contributes to revitalize the cells, contributes to the longer duration of the anagen phase and as a result to the hair recovery and healthy growth.
The aim of  Biomimicry by mesoINSTITUTE® REJUVENATION is maintenance and/or restoration of healthy and youthful texture of the skin.
The mixture of actives used in this solution from peptides to classical products prevents lines and wrinkles by actively generating new skin cells, strengthens skin elasticity by inducing the synthesis of collagen and elastin, counter damaging free radicals as well as moisturizes the skin.
The desired final effect is firm, bright, moisturized skin in mature, very dry or dehydrated skin.
Inspired by the Botox treatment,  Biomimicry by mesoINSTITUTE®  RIDES combines ingredients to achieve a non-toxic Botox effect. It will reduce and prevent emotional lines by inhibiting muscle contractions (via the mimic peptide which is a fragment of SNAP-25, a substrate of botulinum toxin)  and at the same time , it will induce synthesis and increase the activity of enzymes involved in healing, leading to increased synthesis of collagen and other skin molecules (through the mimics of matrikines that regulate the sequence of events required for skin repair and wound healing). On the other hand, another group of peptides decrease progerin synthesis, increase proteoglycan production and contract collagens, in an antioxidant ambiance and with the help of vitamin  B complex that boosts of energy and piscum ovum extract (caviar) that apports basic peptides, amino-acids and vitamins to enhance cell recovery.
Age spots are small dark areas on your skin. They vary in size and usually appear on the face, hands, shoulders and arms (areas most exposed to the sun). They are very common in adults older than 50, but younger people can get them too, especially if they spend a lot of time in the sun. The product  Biomimicry by mesoINSTITUTE® LIGHTEN fights those spots combining the direct action of peptides inhibiting melanin synthesis, with the inhibition and blocking the attachment of the melanocyte stimulating hormone, with the classical interference at tyrosinase level that blocks also melanin synthesis. All this activities they take place in an antioxidant ambient and with the piscum ovum extract (caviar) that stimulates the cellular recovery in the contest of  vitamin B complex, that provides a boost of energy to help cellular activity and increase microcirculation  activity.
NOTICE
One of the problems of those biomimics peptides is their possible loose of activity when in solution. This is why in our mesotherapy they are two vials: the lyophilized vial which contains all possible peptides that can loose their activity in a few hours or days once in solution, and a second vial containing specific solvent of each kind mesotherapy, containing the substances that it is known to restrain their activity in solution.